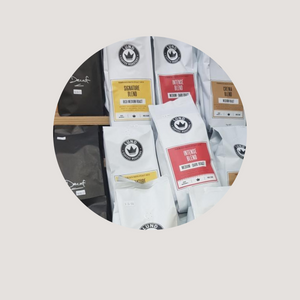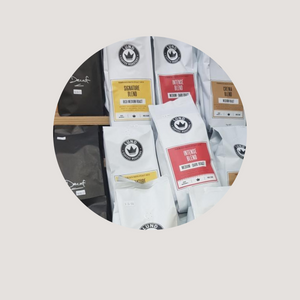 On Sale
Coffee Bean, Whole, Lund
This fresh coffee is created minutes away in Albion by a true, seasoned coffee artist. These are Oli's (the roasting perfectionist) latest blends that deliver delicious deep caramels, nutty, fruity and chocolatey notes. It's coffee for the black coffee, white coffee or non-drinker because it is so damn FINE!!
Good for all coffee - expresso, filter, aeropress etc. 
Store in pantry, in the tightest airtight container. Lasts for months.
We stock 4 varieties:
Signature - Medium Roast:

 If you're confused, then start here. This is mild, but more intense than Crema, with sweet caramel. It will satisfy...unless you are a hardcore dark chocolate fan (go Intense). It's a firm hug in a mug with a small kick at the end.

Crema - Medium Roast:

Maree's favourite! This is for the mellow coffee drinker. We're impressed with

smooth, n

utty, creamy, fruit-like but chocolatey notes. 



Intense Blend - Dark Roast:

Mario loves this dark, full-bodied cracker jack.

 He isn't slowing down after this expresso...watch closely and his nose, full of dark chocolate and honeycomb, is dancing with his brain... and it doesn't slow down until dusk!

Decaf: Ok, it's not your fault. We also have to do it. No one wants the eyes-wide-open dance at midnight. So, go premium, and get this SWISS WATER filtered decaf. It's your buzz without the beaming bits.